Welcome to Ali's World!
This free script provided by
JavaScript Kit
Hi, everybody! Welcome to my page. I hope you find it fun and/or interesting, and maybe it will inspire you in some way or another. (If I don't, oh well, hope you have fun anyway!)
Now, how to introduce myself? Hi, I'm Ali, and I'll be your waiter this evening... no, that's not it... Hi, I'm Ali take me to your leader. That's it! Okay. I won't tell you how old I am, I want you to guess that. (I'm curious if it shows in my writing.) I've put a space for your guess in my guestbook. I was a member of Girl Guides of Canada for 14 years, and have also been in Scouts Canada for 6 years. I've also volunteered A LOT at the Newmarket Youth and Recreation Centre, and was on the committee there for 5 years. I also volunteered with the Women's Sexual Assault Helpline, helping to organise women's rallies, fund raisers, and recruiting volunteers to take calls on the helpline.
Since I finished school, I have worked in 2 beauty salons, hosed raw meat off stuff in a meat processing plant, and sorted parts for an electrician, but I am trained to do hairdressing. (If you have any hair or beauty questions you want to ask, go ahead and ask - I will try to answer them for you as best I can. Crazy hair colours are my specialty!) I have also done a lot of babysitting and like to go out and play with the little kids. How long has it been since you jumped in a pile of leaves or built a snowman? Currently I work as a sample lady in grocery stores, and I really enjoy it.
My passions are camping, volunteer work (some say I'm an activist, others call me a professional volunteer), travel, and making friends all over the place. I camp at least 6 times a year, and have visited England (twice), France, Spain, Monaco, Mexico, Holland, Belgium, Germany, Austria, and the United States. Strangely enough, while I'm proudly Canadian and have seen most of Ontario at some point, I usually don't travel out of province. I ventured east to St. John's, Newfoundland for two weeks in October 2001. I went alone, had a blast, and met loads of wonderful people. Only 10 months later, I returned for another holiday with my friend Cheese, and now we both want to move there! The pictures from my second trip are available for viewing in my online photo album, and you can read a report on my first trip by clicking here.
I am a kitchen table philosopher and a counsellor for anyone who needs good, honest advice. I love dancing badly, singing loudly, '80s music, heavy metal and Canadian satire. I'd love to read for the Vagina Monologues. I love to dress up in crazy outfits. If it flashes lights or glows in the dark, I'll wear it!
Well, that's enough about me. Check out the other parts of my site. Sign my guestbook. DO SOMETHING, WILL YA?! Heehee. By the way, did I tell you I'm insane? Well, allegedly, but it's never been proven. ;-) You can decide what you think after checking out these links, and let me know what you think! Thanks again for visiting, and I hope to hear from you soon! - Ali :-)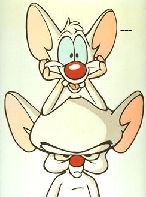 "What are we going to do tonight, Brain?
"The same thing we do every night, Pinky...
TRY TO TAKE OVER TEH INTARWEB!!!"
Sign Guestbook
View Guestbook
View my old guestbook
---
Ali's World! Live to Camp - Camp to Live
Ali's World! Home Page
www.techunbound.ca